Why Our Dolls Are The Best
1. Best Quality Likeness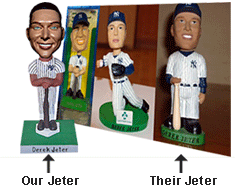 We test dozens of university-trained sculptors to find those most able to sculpt realistic heads, and only a select few meet our exacting requirements. Then we train them for several months. Our sculptors make tens of thousands of individual bobbleheads a year, so they have experience as well as talent and training. They know how to make the bobblehead look just like the pictures you send. Compare the Derek Jeter doll made by our competitor with the one our sculptor created!

When you order from Whoopass Enterprises, you get a doll sculpted by one of the "Michaelangelos" of bobblehead-making.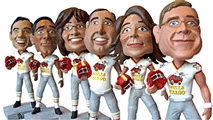 2. Most Detailed Painting
We employ some of the most talented painters available to capture the intricate details of your tattoos, logos and sports uniforms. You will be amazed at how much detail they can depict on something so tiny.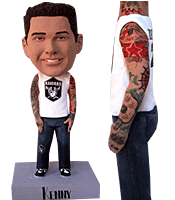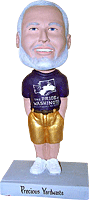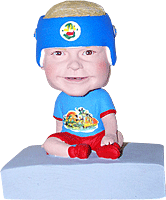 3. Top-Notch Customer Service
We are equally proud of our customer service team. They go the extra mile to meet all your needs, making sure you are kept current on the progress of your doll and that every detail is captured. They are ready to brainstorm with you to design your bobblehead, too.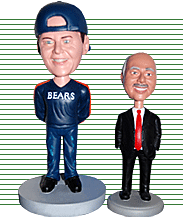 4. Bigger Is Better
Our bobbleheads are a lot bigger than you can find elsewhere. Whoopass dolls are between 8.5 and 9 inches tall, not 7 or even 6 inches. Our larger doll lets us capture more details and create a more realistic face. And besides, our bigger dolls just look cooler!
5. Fastest Turnaround and On-Time Delivery
Because we know your bobbleheads are often special gifts for important events, we do everything in our power to get them to you on time. We've heard dozens of horror stories about the important centerpiece of the event, a bobblehead ordered from our competitors, that did not arrive in time.

In fact, we have been able to rescue many events whose planners were told their dolls would not be coming after all--we can have bobbleheads to you (even for large orders) in as little as 1 to 2 weeks.
6. The Original and the Best
Whoopass was the first large bobblehead company to make individual dolls, and we've been making them for many years now. Over 95% of our customers would recommend us to a friend, which is quite a testimonial!

We know the best way to keep our business healthy and growing is to give you an excellent product and top-notch service. Check our testimonials to hear from some of our customers.
7. No Nickel and Diming: everything's included
Our pricing includes all the details like logos, writing on the base of the doll, jewelry and tattoos. Though other companies may offer a lower base price, once you add everything up, you'll still find us to be equal or less expensive than the competitor.