Our Story
Whoopass Enterprises is the result of countless hours of beer-induced discussion between friends - we had countless product ideas that would surely take the consumer market by storm. Though the original idea - marketing an actual Can of Whoopass - did not stick, the name for that potential company - Whoopass Enterprises - did.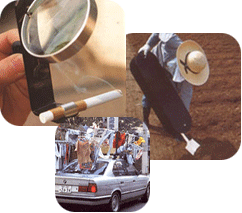 After much deliberation, custom bobblehead dolls were selected as the sure-fire, can't miss next "it" product over other brilliant innovations such as the swiss army shovel, the car clothes rack and the solar powered cigarette lighter.
Founders Jaeson and Darby Rosenfeld - living in Shanghai, China at the time - decided to look for potential bobblehead partners in the then "world capital" of bobblehead making, who would surely be tripping over themselves to partner in their brilliant plan. After being laughed out of several meetings and even being told by one company that making bobbleheads one-at-a-time was "the stupidest thing I have ever heard", they decided the bobblehead dream needed a change of continents.
On vacation in Guadalajara, Mexico, Jaeson spotted a figurine of Homer Simpson wearing a Chivas soccer jersey. He contacted the sculptor, and the idea of individual bobbles became a real possibility. The third partner in Whoopass Enterprises, Scooter DiMaggio, an artist, auditioned other sculptors in Guadalajara and built a team.
In December, 2003, the Whoopass Enterprises website was launched, and custom made individual bobblehead dolls began populating mantles, desks and car windows all over the world.
Since then, Whoopass Enterprise has produced thousands of bobbleheads for satisfied customers, 95% of whom would recommend us to their friends.