Customer Testimonials

View testimonials for: Wedding Birthday/Holiday Gift Retirement/Going Away Award Father's Day General

Wedding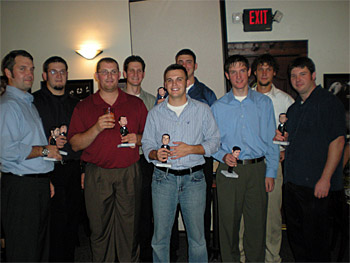 My husband ordered a bobblehead for each of his groomsmen (7) for our wedding on September 13, 2008. I just wanted to say we were amazed with the customer service and even more amazed when we received the finished bobbleheads in the mail. They looked so good and when we gave them to the groomsmen they were amazed too. Everyone couldn't believe how much the bobbleheads looked like each of the groomsmen. They all loved them and now have them displayed in their homes. We happened to be searching the internet for groomsmen gift ideas and had used google to find ideas and up popped your website. Several people have asked us where we got them and I am happy to give out your website. Thanks again for everything!!!
Crystal S.
I owe you a great many thanks for all the hard work you and your team did on the bobbleheads for our wedding, back in October 2006. We gave them to the groomsmen at the rehearsal dinner and the whole room went crazy. It was one of the highlights of the weekend. They all have them prominently displayed in various places. Those who have seen them have been asking about you guys. One actually noticed that my friend (Bo) was in the gallery while he was looking to do the same thing for his groomsmen. It reminded me that a thanks to you was long overdue. I still owe you additional pictures, which I will have to see about getting to you. I know I was a pain and just wanted to let you know how much I appreciated all your assistance and understanding. I couldn't have been more pleased with the results. Thank you so very much.
Tony C.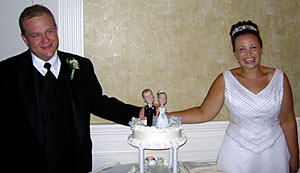 The bobbles were the hit of the wedding! I've attached a few pictures. Thanks again to you and everyone at Whoopass!
Michele P.
Here is some interesting feedback for you. I never heard of «Whoopass» until my Google search. I was in a weekly physical therapy appointment yesterday in which patients are only separated by curtains and are easily able to hear conversations in the next space. I was telling the therapist about this idea for my son's 21st birthday present, and I was expressing a little concern because I was taking a chance on something I wanted to be really nice for him. Believe it or not, a woman's voice from the next space over, asked «Did you use Whoopass?» I never met this woman before, and she started telling me that her son is getting married on June 30th and all he wanted was his likeness and his bride's likeness on the top of the wedding cake in the form of a bobble head. She said you are all incredibly talented and keep your customers updated as you go along, and the finished product is absolutely amazing. I felt a lot better about the whole thing, and thought you might appreciate the feedback around this amazing serendipitous conversation! I can't wait to see how Alex' 21st birthday likeness turns out. Enjoy your day.
Cathy D.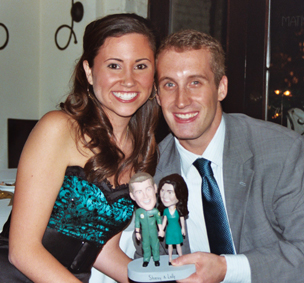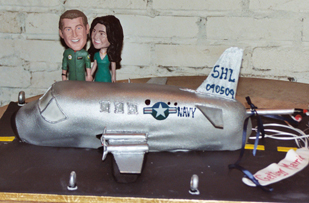 Good afternoon! I thought you would enjoy the attached photographs of my son, Shane, and his fiancee, Lauren, opening the bobbleheads that you made for them in December. (Shane is a Navy pilot, and the cake is in the shape of the P-3 Orion, the plane he will be flying.) The bobbleheads were the highlight of their engagement party! With best wishes.
Donna H.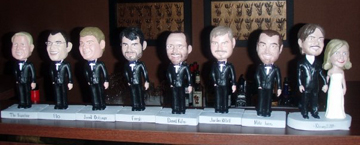 Thought you'd enjoy this!
Kerri S.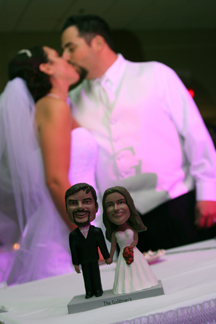 I just want to thank you for the amazing job you all did creating our bobbleheads. We have gotten so many compliments and they are now displayed in our china cabinet. Thank you so much!
Shari & Jesse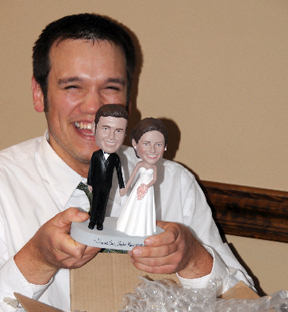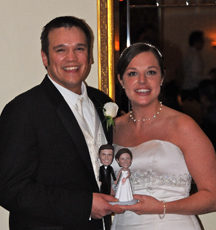 I thought this would be a perfect gift for my husband for his wedding present. He loved it! Thank you so much for making our wedding special and for allowing me to give my husband a truly unique gift.
Sara & John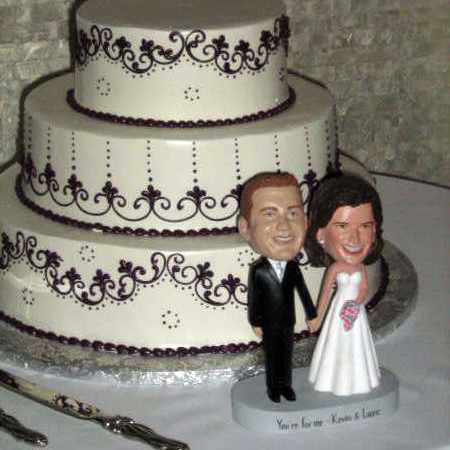 The bobbleheads were a HUGE hit. The groomsmen were awed and everyone asked where I had them done. Laurie loved her surprise bride & groom one.
Laurie & Kevin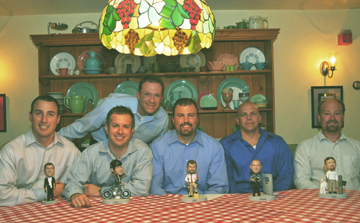 Try this one…..that would be cool if it was up on your website. I have already had at least a dozen people ask me for the name of the company that designed them.
M. France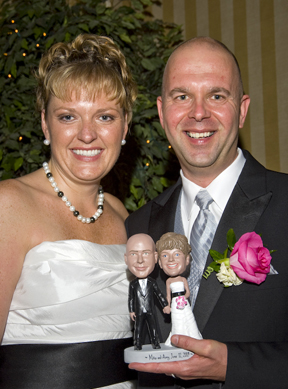 Our bobbleheads turned out fabulous and everybody was absolutely wowed and amazed at how much they looked like us.
Amy W.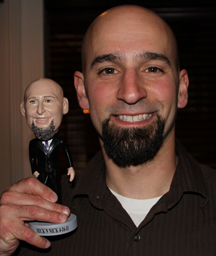 Hi, Here is a photo of my bobblehead damn! It's spot on!
Justin L.
It turned out amazing. Even my little nephew said «that's a bobble head of you and greg!» when he saw the pitcure. Thank you soooooo much. You guys rock. I will have to send a pic of my new hubby when he gets it. He's going to LOVE IT!!! I'm just so happy with your company. Thanks again!
Traci K.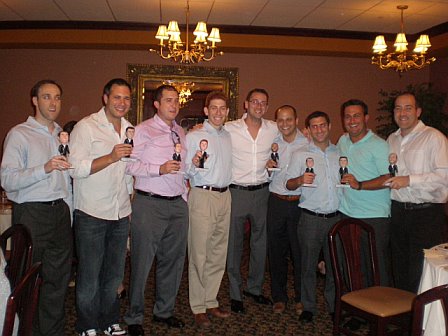 All of my groomsman thought it was the best gift and thought they were hilarious.
Paul R.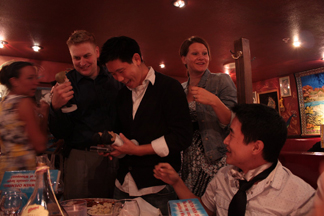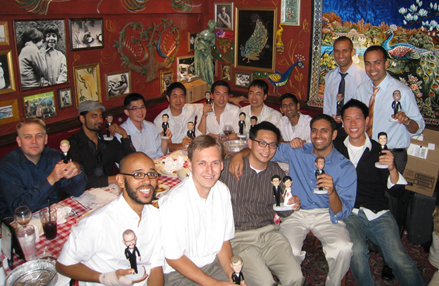 I can't thank you enough for the joy that you made possible.
My son Darrin and his bride are on their honeymoon this week and I wanted to express my appreciation to you for making their rehearsal dinner last Friday an evening that they and their wedding party one that they will never forget.
Jackson
I received my bobblehead today and I am extremely happy and satisfied with it. It was hard to visualize unpainted and I really wasn't sure if it would look exactly like the person I ordered it for. I opened the box and unwrapped it and cannot believe how close it resembles that person. I am so happy with it. It was a birthday gift and I wish I had ordered two. I hate to part with it. I got very attached during the entire in process photo time. I love it. You guys are amazing and please thank whomever worked on this doll. I truly appreciate all of the work and revisions, (there were alot) and I am sorry if I seemed a little too particular but I wanted it to be perfect and it is. I couldn't have asked for a more perfect likeness.
Thank you everyone.
Kathy S.
Just wanted to tell you what a HUGE hit the figure was with my friend, Robert. he said that it was the best present he could remember and could NOT have been more enthusiastic or complimentary. I'll be back for more.
Mary C.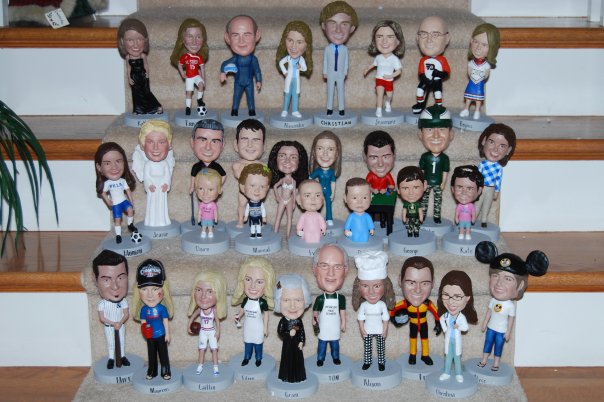 The picture of them all are on Facebook and everyone seems to comment on them and love them!
Thanks again.
Alison
My brother is turning 40 next week and I thought bringing a couple of custom made bobbleheads to the party would be a good idea. Having never ordered them before. I picked your company simply because you could guarantee delivery in a quick timeframe. Over the past week or so I have been working with Stephanie to complete the order and customize the bobbleheads. She has been extremely responsive, helpful and a pleasure to work with during this timeframe. Because of that, I would happily recommend your company to anyone else moving forward. In these days good service is hard to find, and when it is, it does not get recognized enough. Regards from a happy customer.
Rick M.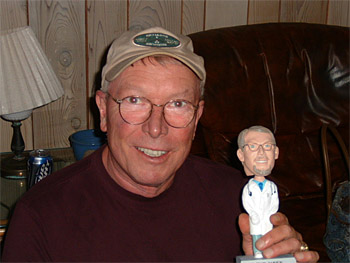 Dave loved his bobble head, even if he did shave his beard off 3 days before his birthday. LOL.
Thanks again for the great gift.
Sue
We just wanted to thank you — we ordered our custom bobblehead just 8 days ago with a request for rush shipping, and were so happy to receive it even earlier than promised! The likeness is terrific, and I'm sure it will bring big laughs at my uncle's 70th birthday party. Thank you again for your company's great service and product!
Barb and Bill B.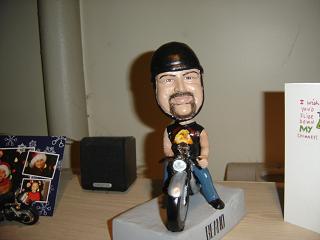 I wanted to take a moment to say thank you for the wonderful bobble head that you guys made of my boyfriend. We were thrilled with the product and the incredible likeness of the BIKEY! It would tickle me pink if you'd like to add the photo to your website. I am pretty proud of it and would like to brag on it (so to speak). I could send the photo under separate email if you like! Customer service was incredible; very personalized and very prompt! We even made special requests without any hesitation on your part. Thanks again for a terrific gift. We enjoy it immensely. Best regards and many thanks.
Susan J.
The gift recipent was thrilled with his bobblehead…said it was the best gift he ever received! Thanks so much for all of your help…it was a pleasure doing business with you!
Grace S.
I just wanted to thank you for your excellent customer service. My bobblehead was a surprise gift for a friend, & he absolutely loved it. He even seat belted it in his car when he left. You can put me down as a very satisfied customer. Thanks again!
Steven L.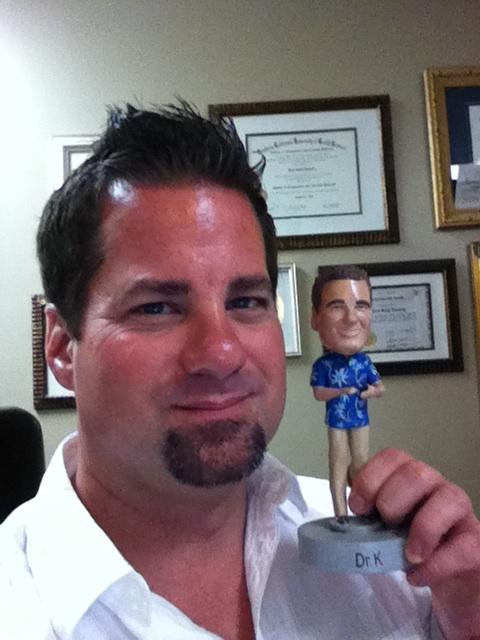 Although he didn't have a beard at the time of my ordering the bobble head, you guys couldn't have gotten much closer. This was awesome!!!!Vicki V.
I just had to write and say thank you for the wonderful job you did on the bobblehead you created for me. I had been planning to give it to my brother for Christmas (not realizing how efficient you guys are!) but have decided instead to give it to him for his birthday this weekend. The bobblehead is perfect and such a wonderful one-of-a-kind gift. I will highly recommend your company to my friends.
Jennifer C.
Came in the mail Tuesday, and I'm extremely pleased. Everyone here at the newspaper said it looks just like my wife. I can't wait to give it to her on the 18th. Thanks for helping me buy her what I think will be the best gift I have ever given her on her birthday. Enjoyed working with you.
Barry B.
I want to thank all of you for your generosity and the awesome birthday present. I have to say that the bobblehead is one of the coolest gifts I have ever received. You guys are remarkable and I am truly blessed to work with each of you.
Evan
I've been getting the boss's Christmas present every year since 1996. Since I can't top this I'm letting some one else think of something for next year. You people are the greatest. She hasn't put the bobble head down yet. My email has been swamped with requests for your website, which I was very glad to give out. I hope you have continued success in the years to come.
Ron T.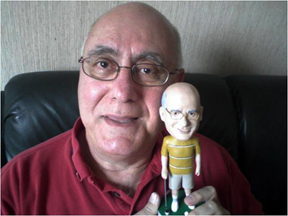 He has had such fun with his little me. His friends can not stop laughing. Thanks again for a job well done.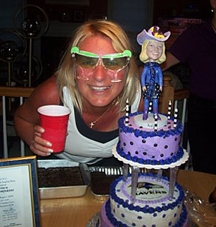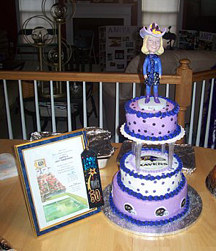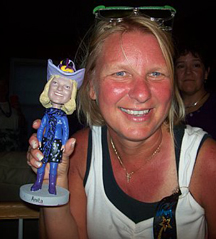 Thanks for the bobblehead- as you can see in the pics — she loved it, it was a big hit!!!
Barb S.
The bobblehead was a gift for our CEO, who retired after 30 years here,and his big retirement party was last Friday. He received numerous, lavish gifts... but the one thing that got the biggest and best reaction from him was the bobblehead. His face lit up and you could tell that he was just absolutely taken aback with it, he couldnt have been happier. On behalf of our department, I just wanted to extend our deepest gratitude to you for getting this so perfect.
Chase W.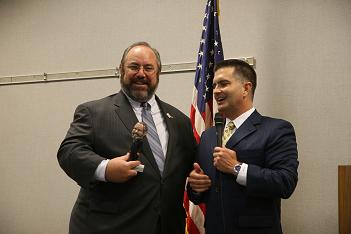 Well it was presented at John's 'retirement' reception last night, as well as at his locally televised outgoing council meeting last night — it was a BIG hit. His face lit up! Many people asked me over and over where I got it (each Bobblehead should come with 50 of your company brochures / business cards!) and they were all commenting how much it looked like him and what a great idea for a gift.
Thanks so much for your help in making this special gift such a wonderful token for John's 8 years on the Redondo Beach City Council.
Elisabeth D.
I just wanted to send you a huge «THANKS!» for turning this order around so quickly! The bobble-heads were delivered yesterday and they are awesome! My boss's retirement party is today and he will be presented with one. I'm sure he will love it! Thanks again for awesome service!
Mike W.
That's great! I appreciate it. I've already told many others in the plant about you guys, and 'Whoopass Enterprises' is a hard name to forget. And as I mentioned earlier, I've decided to make the Whoopass bobblehead the official going away present to associates in our office! So as they leave, we'll be ordering more. For some reason, we have a high turnover in our office, (maybe the stress), so I'll be throwing a lot of business your way. Thanks again for all your help and support.
Andrew O.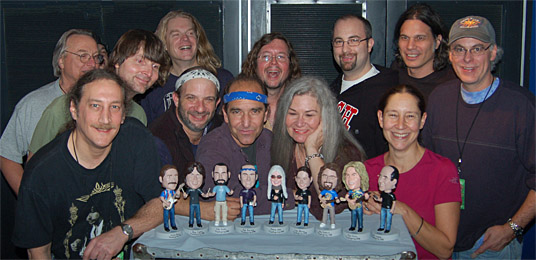 Hope your Thanksgiving went well. Here is a picture of the band Dark Star Orchestra with their bobbleheads; they FLIPPED over them! You guys did a great job.
Ira Brian M.
We place a Bobblehead on the bookshelf of our lobby for the tenth anniversary of each employee as it is reached. I thought you might like to see it.
Many
I just wanted you to know that my friend ran the Boston Marathon today and I gave him the bobblehead as a gift. He loved it. Thanks so much for all your hard work.
Sandy R.
I received my bobblehead a few weeks ago and it is fabulous!
Deana
Just wanted to rave about the bobble head we got my father-in-law for Father's Day! The sculpted & painted likeness is so true to life. When we presented this to him at the restaurant, the table couldn't stop laughing & looking in awe at the resemblance. Even the waitstaff & other customers had to stop to comment. He loves his doll, & was thrilled to receive such a hilarious & meaningful present!
Sharon B.
I received my Personalized Bobble head for Father's Day from my wife! What a suprise! It was a perfect gift for my office. Everybody loves it and wants to get one of their own! I attached a photo of myself holding my customized bobblehead, if you want to display in your gallery, feel free!
Ken M.
Thanks once again for doing such a great job in such a short amount of time! It arrived in plenty of time to give it to my husband for Father's Day and he absolutely loved it! He couldn't believe how much it actually looked like him. I showed the finished pictures to my co-workers and they thought they were awesome too. I have some people here that already plan to order from you guys very soon! Thanks again!
Staci B.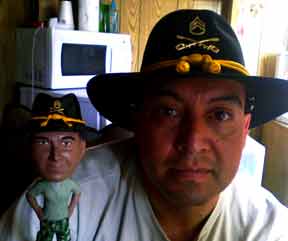 Just wanted to that everyone in my family and the guys in my unit here in Iraq thought it was an awesome idea. Thanks again. I will be passing this along to everyone I know.
J.Abarca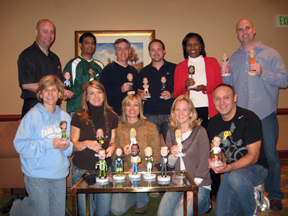 Attached is a photo of everyone who was at the offsite with their Bobbles. They were a huge hit! Everyone loved their Bobble and it was a really great team building exercise for us. I can't thank you enough for all the time and effort you spent getting them just right and then getting them to us on time!!
Angela
The bobblehead arrived last week, and it looks even better than the pictures depicted! I haven't given it to Jay yet (he's in football camp till August 28th), but I'm sure he's going to be surprised and thrilled!
Nikki D.
I just got my bobblehead yesterday and it is AWESOME! I thought it was great in the pictures but it is even better in person! Thank you so much! It will be a treasured memento in my family of our beloved Uncle! Can't wait for the rest of the family to see him!
Lara B.
I just wanted to say that you guys have been great to work with. I have been a CS rep for over 20 years and you guys handled my situation great. Kudos to you. The right way to handle CS in this country is declining rapidly.
Thank you again.
Nancy G.
The Bobblehead does in fact whoop some you-know-what! It's fun. Thanks
so. much…the whole experience was excellent. Great customer focus; great customer service. We are using your company in a sales campaign, based on the product, service and overall customer experience.
Thank you to Stephanie and everyone else at Whoopassenterprises.
Sumi S.
My doll arrived yesterday! It is such good quality and good workmanship, I absolutely love it; your company has provided me quality service, a quality product, and great satisfaction. Thank you so much, Luis, our boss will love this gift.
Theresa
I also wanted to let you know that I am very pleased with the salt and pepper shakers… they looked great and very similar to the people they depicted. The family member I gave them to was also pleased and surprised at the resemblance. Thanks again for your attention.
Cecilia S.
I wanted to let you know what a great job you did on my Steve-o bobble head doll. It exceeded my expectations and I couldn't be happier. Thank you so much.
Catherine W.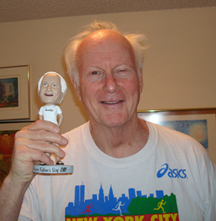 Just wanted to let you know I got the bobblehead and am very happy with it. Everything turned out perfect, especially the patches. Everyone that I've shown likes it and I know Gary will. Thanks so much, and I'm looking forward to getting one for myself.
Richard B.
It was a pleasure doing business with your company and I will definitely keep you in mind for future needs. Everyone has been great to work with and you are all so responsive with customer service!
Debbie N.
I would like to thank you for your efforts throughout the project to help me create my Whoopass Enterprises bobblehead. Specifically for your patience and understanding as you addressed any and all concerns I might have expressed during the project.
I am extremely pleased with the completed bobblehead. I must admit, I was, at times, uncertain as to whether or not the completed bobblehead would meet my expectations. But the completed bobblehead has far exceeded all my expectations.
I am convinced that such a result is a direct reflection of the care and attention that was invested by yourself and all the other Whoopass members involved in this project.
The bobblehead has proved to be a fantastic conversation piece and I look forward to working with you on another bobblehead project in the near future.
Jeffrey L.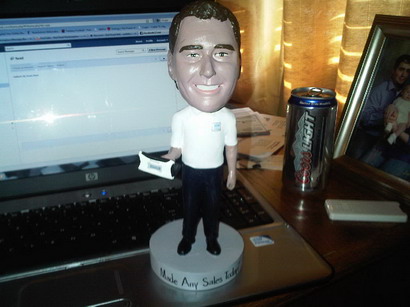 First off, let me just say this....WOW. I just received the bobble-head in today and no words can describe how I feel. It's amazing. Right off the bat, I didn't realize how BIG it is, and then the likeness of it, it just adds more satisfaction to it. I am 1000000%. You guys did an excellent job, the customer service was superb, the promptness of something this complex was unheralded (yes I'm running out of words to describe how happy I am). It's beatiful. Pictures just don't do it words!! I love y'all. I will DEFINITELY recommend y'all to EVERYONE I know. And you've just supplied Crescent Crown Distributing with days upon days of laughter. Thank you so much for everything y'all did.
Jade O.
I just received my bobblehead and all I can say is «wow». I'm impressed with your artistic talent along with your first class customer communication all along the way. You have my sincere thanks and be assured i will recommend your product & service to my family & friends….thanks again, you are «tops» in my book!!!!
Ron O.
THANK YOU SO MUCH!!! He looks great! I can't wait to show him off. I am going to refer you to everyone I know!!! Thanks again for all of your work. I really appreciate it!
Lori D.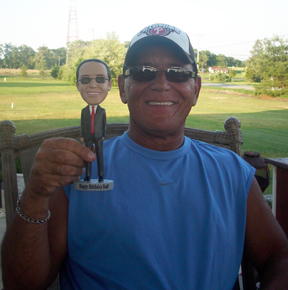 I received my doll today and it is fantastic. It looks so lifelike! Thank you so much for all the hard work. I also want to thank you for the excellent customer service you provided as well.
Dana M.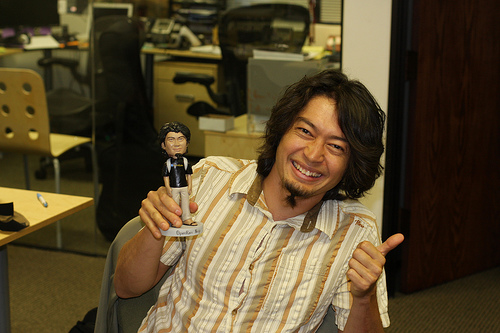 <
I recommended Whoopass enterprises in our company blog.
Marc
OH my GOODNESS! I just received my Bobblehead and he is AMAZING!!! I am so impressed with his likeness and the details! It is perfect. Thank you. much!!! I am a very happy customer.
Naomi S.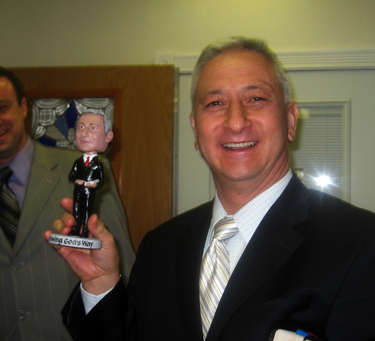 OH my Received today :) looks much better in person. we gave it to the Pastor tonight at church and he LOVED it! Attached a pic :) thanks again!
Tammy
WOW!!!! The bobble head arrived today — we unpacked it (I couldn't wait until the party on Saturday), and it is AMAZING!. Thank you for all your help in making a fabulous conversation piece for Blake's big party!!!! once again, thank you for all of your patience and help — the result is FABULOUS!
Claudia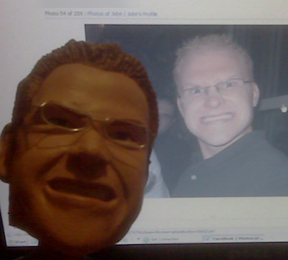 I recently ordered a bobblehead for my boyfriend and it came out FABULOUS. He looks just as good in the booblehead as he does in real life. We were amazed with everything from the detail, quality and speed of shipping. We will definitely be using your service again in the future, hopefully he'll be sweet enough to make one for me sometime;) THANK YOU Whoopass enterprises!
TJ
Hello. I recently received my order of a custom chef. I just wanted to thank you all for such a great job and a really neat experience. I have passed your website on to some of my friends who were delighted with the idea. Thanks again for everything. Cheers.
Shannon McOuat
The Bobbles just arrived! They are fantastic. Cannot believe the quality of the likeness and the figure! We will definitely recommend your service to anyone who asks!
Sylvia S.
I received Ellen this morning — very nice work and shipped well packed and on time as promised. Count me as one of your satisfied customers! I never had an organization I purchased from via Internet communicate so frequently throughout the process, and be willing to modify and rework the order until it exceeded my expectations».
Bob K.
We got the bobble heads and they look FANTASTIC! The players loved them! Thank you so much!
Daryl
After a difficult process of obtaining all the photos, I placed an order for «next day service» for 15 of your premium bobblehead sports dolls. I never could have imagined how well they would have come out. Immediately after placing the order and receiving the automated confirmation, Stephanie sent me a personal email confirming that he had indeed received it, and will start right away. I knew, immediately, who I would be working with and who I should contact with any questions. She was concise, punctual, very quick to respond, and very knowledgeable on the product. She was an absolute pleasure to work with, and assisted from start to finish of the dolls. She kept me informed of the order status, and was available to help whenever I needed. Because of her, our dolls were delivered perfectly (andaccurately!) We will be using them as place cards for a big dinner we are hosting next week, and we couldn't have asked for a better idea. Being in a service industry ourselves, I just had to write you an email to inform you of what a star Stephanie is. She is truly phenomenal. Thank you again for your wonderful product. You will surely hear from me (and us) again.
Best regards
Britt G.
It is wonderful! Thank you so much for your help in getting this project finished and to me before I needed it.
I have recommended your company to others for its uniqueness and hope you increase your business.
Peggy S.
You folks were absolutely tremendous throughout the whole process and the results were great. Last week we held our Annual Management Meeting with about 400 top managers from around the country. My idea for the dolls came up late and I wasn't sure we could make it happen, but from the beginning you gave me hope it could be done. And you did it!
I wanted to get back to you with some feedback on my order. First, you folks were absolutely tremendous throughout the whole process and the results were great. Last week we held our Annual Management Meeting with about 400 top managers from around the country. My idea for the dolls came up late and I wasn't sure we could make it happen, but from the beginning in direct contact with Darby to answer all the questions you gave me hope it could be done. And you did it! I'm sure Luis dreaded every email I sent with changes and me worrying about making the delivery, but he always responded timely in a positive can-do attitude and re-assured me they would make it. I can't tell you how successful it all worked out when we injected this 'special award' in our high profile ceremony (attached). In fact, there was such a great response I think we're going to have to order another lot for all of our Zone and Area management teams.
But more important was the level of customer service provided. Customer Focus was the key theme of our 3 day meeting to kick-off the new fiscal year. Throughout the various presentations and workshops I kept thinking how well your company exemplifies focus on the customer. We measure a customer referral index and when I saw your statement of "95% of customers would recommend us" I thought it was probably hype.
Great customer loyalty like Harley-Davidson has is in the high 70s%... and their customers tattoo themselves with the company logo! Well, I don't think I'll tattoo myself with 'Whoopass', but you definitely made me a believer and promoter.
Great job folks, you should be very proud of your company.
Vice President, Siemens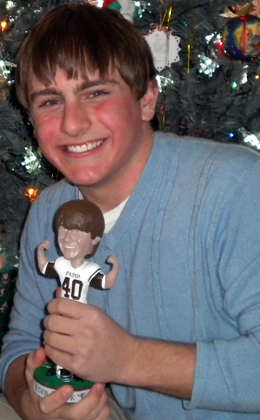 I just wanted to thank you so much for the amazing bobblehead! It's perfect!
JK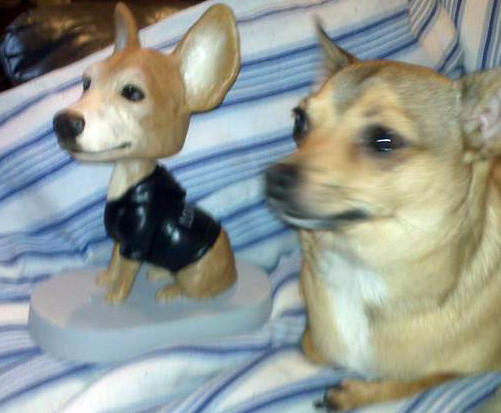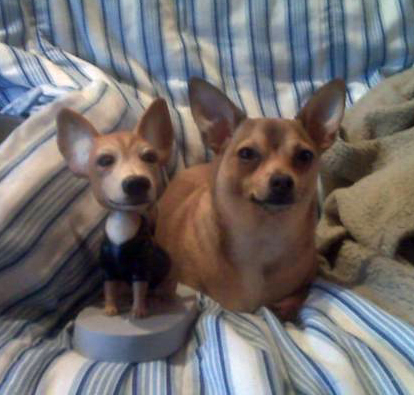 Thank you so much for all of your help with the Ricardo bobble! I have attached two pics of him and his bobble - like puppy like bobble! My mom LOVED it! As did everyone! HUGE HIT!! The work on the bobble was really amazing... It was like artwork! And, I really appreciate your help :) Thanks again!
Courtenay
I hope you don't mind me emailing you, but I just have to share this. We are absolutely THRILLED with your product. I wouldn't be at all surprised if you don't see more orders from my company in the future… there are many executives left to make bobbleheads of! My mother is even looking into creating one of her boss for Christmas. Your prices are reasonable, your turnaround time is excellent, and your communication is thorough. I can't find anything wrong with this experience! EXCELLENT work on your part for the organization, and please give my compliments and regards to the artist as well, their talent is obvious. Until next time…
Joshua G. and the HCV Drug Discovery Group
Sara received her gift the other day at her party. And I thought I was blown away by what you guys made: she laughed, she cried, she wouldn't let go of it for the rest of the evening. I thought I was just ordering a novelty toy, but you and your artists made it much more than that. I will recommend you guys to everyone I know, and will certainly be coming back myself in the (hopefully near) future. Thanks again for helping me make this happen.
Jason L.